The microwave is one of the "magic" appliances of the home. It gets jobs done in all areas of the kitchen, and when your microwave breaks down it can be hard to imagine going on without it. If you need reliable, quality microwave repair, you need Littleton Appliance Pros. We are standing by to take care of your microwave problems in a flash. If you want to know more about our microwave repair offerings, you can read on below. If you're ready to start the process of getting your microwave running great, call us right away!
Has your microwave stopped working? Is it showing signs of wear and tear? Here are some common problems we see at Littleton Appliance Pros:
Microwave won't turn on
Strange sounds when in operation
Sparking inside of microwave
Noisy operation
Controls don't work
Display malfunctions
Food not being heated up properly
Turntable not rotating properly
Microwave door won't close properly
Microwaves are relatively simple appliances, but the parts and technology used inside of them can be dangerous to you and your family's health. That means if your microwave is showing signs of wearing out (or has broken down entirely), you don't want to risk working on it yourself. Keep yourself healthy and safe by calling in the professionals!
Trust a Local Source
Working with a national chain will only bring you headaches in the end. Instead, work Littleton Appliance Pros to ensure that you get customized service that is designed to fit your needs. Our customer service experience is second to none, and we'll get you on the right track from the start. Personalized service means getting treated like an individual customer, and that means our professional team of repair techs will arrive at your location prepared to offer you the highest levels of customized service. When they're done, we'll make sure you're satisfied with your experience from start to finish, and we'll work hard to make it right if you're not.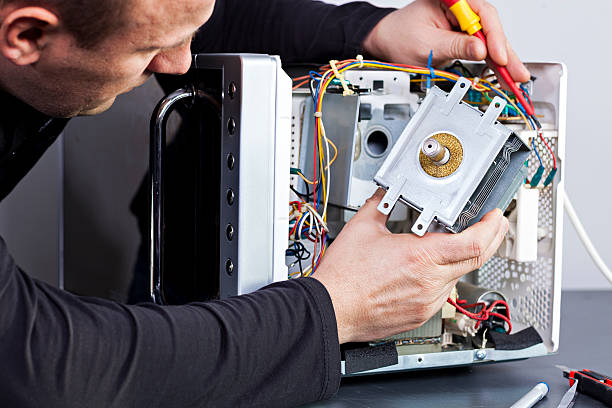 Looking for professional assistance?
We will provide you with the best repiar, maintenance and diagnostic service!
A Process You Can Count On
We want you to rest assured that that you will receive only the best experience every time you work with Littleton Appliance Pros. That means you can count on getting the same high-quality service experience every time you work with us. We are a local company, and we promise that to our local customers.
Customer Service – Our customer service representatives are the best in the business. They are trained to treat you right, take your information, and get you started on the next steps of appliance repair and service. Don't get treated like a stranger by working with one of the "big guys."
Expert Repair – Our teams of highly trained service technicians are the tops in the industry. Once you've worked with one of our customer service experts, you'll be paired with an expert team who can arrive at your location ready to solve most appliance problems in just one visit.
Satisfaction Guaranteed – Once the process is all done, we want to make sure that you're satisfied. This means we will be in touch with you following your repair visit to make sure that everything went as expected. If there were any problems or concerns along the way, we will work to make them right for you.
Call Us With Questions – If you have any questions about the process as described on this site, just give us a call. We can answer any questions you have and make sure you're ready to proceed with Littleton Appliance Pros.
Preventative Maintenance
If you don't want to lose the use of your microwave suddenly, we recommend preventative maintenance plans from Littleton Appliance Pros. We will have a skilled team of expert repair techs arrive at your location to diagnose and inspect your microwave or other appliances. Once your microwave is running at 100% efficiency, we'll make sure that it stays that way. That means careful maintenance over time to be sure that no major problems happen when you need them the least.
Emergency Service
We can be there for you when your microwave breaks down without notice. This magic little appliance does so much in our homes, so if one breaks down in a pinch it can really put the brakes on your daily routine. We are available to you 24 hours a day, 365 days a year, even on special occasions and holidays. This means that all you have to do is pick up the phone and call us and you'll be on your way to microwave repair success. No matter what time of day, or what day of the week—we're here for you.
Call Us Today at Littleton Appliance Pros!
When you're ready to start working on fixing your microwave headaches, pick up the phone and give us a call. We have friendly customer service representatives standing by to get you started on the right path to microwave repair. Just pick up the phone!