It can be a nightmare to have your dishwasher break down without notice. If your dishwasher is out of commission, broken down, or showing symptoms that it may break down soon, we can help. With professional and expert appliance service and repair, Littleton Appliance Pros offers the best dishwasher repair in our local area. We have years of experience operating with customers on all makes and models of dishwashers, and we can help you too. If you're interested in learning more, just read on. If you need help right away, just pick up the phone!
Has your dishwasher stopped working? Is it showing signs of wear and tear? Here are some common problems we see at Littleton Appliance Pros:
Dishwasher won't start
Dishes coming out of appliance still dirty
Water leaking
Error codes on display
Filter and screen maintenance issues
Strange odors from inside appliance
Water stays in the bottom of the basin
Dishes are foggy or streaky
It can be tough to understand a dishwasher enough to accurately diagnose its problems. That's why Littleton Appliance Pros is here for you. Our experts can arrive at your location ready to diagnose and fix most dishwasher problems the first time, the right way, in just one easy visit.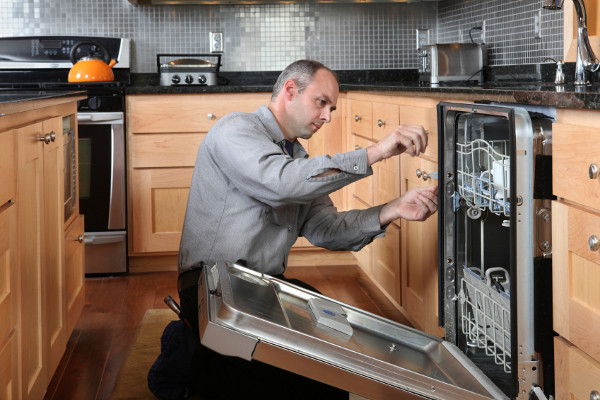 Trust a Local Source
Don't allow your home's appliances to be serviced by a big-box franchise company. Instead, work with Littleton Appliance Pros for customized service that you need. When you work with a local company, you will get expert and personalized service from start to finish. Customer service is catered to your needs, the repair process will work to fit your life, and the final step of the process will be assuring that you've been satisfied at every step along the way. Because we value our local and loyal customers, we will make sure your happy with every job.
A Process You Can Count On
We want you to rest assured that that you will receive only the best experience every time you work with Littleton Appliance Pros. That means you can count on getting the same high-quality service experience every time you work with us. We are a local company, and we promise that to our local customers.
Customer Service – Our customer service representatives are the best in the business. They are trained to treat you right, take your information, and get you started on the next steps of appliance repair and service. Do not get treated like a stranger by working with one of the "big guys."
Expert Repair – Our teams of highly trained service technicians are the tops in the industry. Once you've worked with one of our customer service experts, you'll be paired with an expert team who can arrive at your location ready to solve most appliance problems in just one visit.
Satisfaction Guaranteed – Once the process is all done, we want to make sure that you're satisfied. This means we will be in touch with you following your repair visit to make sure that everything went as expected. If there were any problems or concerns along the way, we will work to make them right for you.
Call Us With Questions – If you have any questions about the process as described on this site, just give us a call. We can answer any questions you have and make sure you're ready to proceed with Littleton Appliance Pros.
Looking for professional assistance?
We will provide you with the best repiar, maintenance and diagnostic service!
Preventative Maintenance
A broken-down dishwasher can be one of the most frustrating things to happen in a home, putting the brakes on household operations in a heartbeat. If you want to avoid this sort of situation in your home or business, call Littleton Appliance Pros to arrange preventative maintenance for your appliances. Working with our teams of skilled repair techs, you can be certain that your dishwasher will run smooth for years to come without interruption. Don't wait until a problem occurs—catch them while they're still small, and call us today.
Emergency Service
If you need emergency service for your dishwasher in your home or business, you need Littleton Appliance Pros. We offer 24 hour emergency service 365 days a year, even on weekends and holidays. We won't let an appliance emergency put the brakes on your routine. All you have to do is pick up the phone and contact us. We'll be there at a moment's notice to solve your toughest dishwasher emergencies—no matter how large or how small. We are standing by to help you with all of your appliance emergencies. Call us right away for help!
Call Us Today at Littleton Appliance Pros!
If you're done dealing with dishwasher problems on your own, it's time to call in some help. We've got knowledgeable and helpful customer service representatives standing by to get your information and set you on the path to appliance repair happiness. Just pick up the phone and give us a call today!